Most everyone in Canada has a home, be it a house, apartment, condominium or mansion. Whether the home is owned, rented or shared, some type of home insurance is advisable if not required. When a loss occurs to the home itself or to property within the home, insurance can help you to recover from the loss.
Liability insurance, usually associated with property insurance, can also help protect you if you accidentally do something which causes a loss to someone else. Although there are lots of special circumstances around some homes and property, the vast majority of homes can be insured with standard home insurance.
Featured Providers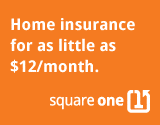 Serving BC, Alberta, Saskatchewan, Manitoba, Ontario, and Quebec
Head office: Vancouver
Looking for a more affordable home insurance policy?
Square One policies start at only $12/month. These policies are so affordable because you choose what to insure, so you only pay for what you need. For example, other policies include $6,000 for fur coat coverage and $5,000 for gold bullion. If you don't own fur coats or have bricks of gold, you don't pay to insure them with Square One.
As home insurance specialists, we offer a range of policies to meet your specific needs, including house insurance, condo insurance and tenant insurance. To see how much you can save on your home insurance, get an online quote now.