Whether you rent an apartment or live in a home or condo you own, you should have insurance coverage to compensate you for a loss due to fire, theft, vandalism or other cause. You should also have liability insurance in case you did or neglected something which caused a loss to others.
Property insurance, including the home, is much broader and covers many of the things you own – your electronics, art, jewelry, clothing, tools, etc. – against many types of loss in different places, such as the theft of a suitcase from your car, for example.
Canadians reconsidering where, how they live post-pandemic: Aviva survey

Aviva Canada's new How We Live Report provides a snapshot of perceived property values, renovations, plans to buy/sell/move, possessions added to Canadian, homes and commuter habits 1 in 3 Canadians are considering relocating and other plans for how they will live during and post pandemic

...
Provider Spotlight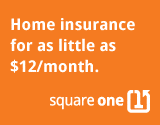 Serving BC, Alberta, Saskatchewan, Manitoba, Ontario and Quebec
Head office: Vancouver
More information on specific offerings:
Office in Markham ON
Serving the Greater, Toronto Area
More information on specific offerings:
Head Office: Mississauga
Serving all of Canada
More information on specific offerings: