Life Insurer category: Sun Life Financial
Sun Life was nominated by Halya Rudiak and Pamela Bain, IBM.
Insurer: Sun Life Financial
Serving one in every five Canadians, Sun Life Financial is a leading international financial services organization providing a diverse range of protection and wealth accumulation products and services to individuals and corporate customers. Chartered in 1865, Sun Life Financial and its partners today have operations in key markets worldwide, including Canada, the United States, the United Kingdom, Ireland, Hong Kong, the Philippines, Japan, Indonesia, India, China and Bermuda. Sun Life Financial Inc. trades on the Toronto (TSX), New York (NYSE) and Philippine (PSE) stock exchanges under ticker symbol SLF.
Technology Provider: IBM Canada Ltd.
IBM is one of Canada's leading providers of advanced information technology, products, services and business consulting expertise. We are dedicated to helping our clients innovate and succeed through the end-to-end transformation of their business models and the application of innovative technology and business solutions. IBM Canada and its wholly owned subsidiaries employ almost 20,000 regular full-time people across the country and we hired 1,050 people in 2008. In addition, IBM provides temporary employment for 3,400 people, including 700 students. With an investment of $397 million, IBM is Canada's largest investor in software and IT services research and development.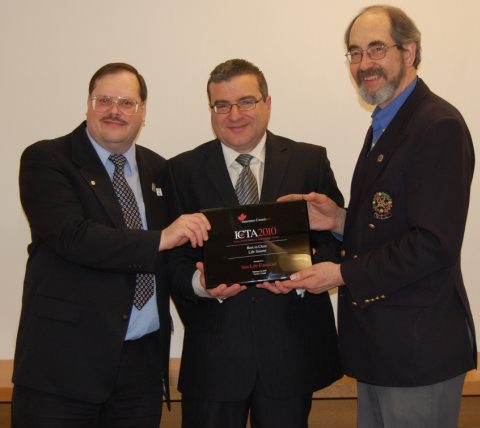 Ralph Grant (left) and Roger Moryoussef (centre), Sun Life, with Doug Grant, Insurance-Canada.ca (right).
Description of Technology Used
Sun Life implemented an IBM Optim solution enterprise wide to address Data Archiving, Test Data Management and Data Privacy (Data Masking). All products are part of the Optim solution which offered a single solution to address all of the Sun Life's business needs.
Comment:
"The Optim solution was the only one that met our needs from an enterprise perspective. It was able to provide archiving and masking across all platforms and DBMS's (with the exception of IMS archiving). Most comprehensive solution on the market. Did 6 reference calls and validated with market analysts such as Gartner Group before purchase. All feedback was very positive indicating that this solution was the best of breed for our needs."
– Ralph M.F. Grant, Solutions Architect, Data Management Services, Sun Life Financial.
Deployment
The base products were implemented all at one time, however adoption and usage was staged in one application at a time. This allowed the most efficient implementation while minimizing risk. Each business implementation was run as a separate sub project to the overall Optim rollout.
Optim was deployed across multiple databases within Sun Life including Oracle for their corporate finance and call centres plus other business applications running on SQL server, DB2 SLF LPAR, and DB2 Individual LPAR. Three pilots were implemented and expectations were surpassed in all cases. The rollout then began across the organization.
Impact of Technology
Based on available projects, the impact of the proposed solutions resulted in significant cumulative direct and indirect benefits over the 5 year analysis period.
To sponsor this project initially within Sun Life, it was based on reduced storage costs; however, as the project progressed, Sun Life has seen business improvements in other key areas of operations.
"With the OPTIM suite, we achieved our break-even in one year and are well on our way to achieving the benefits of the external 5 year business case. We felt this was too ambitious; we're very pleased to stand corrected".
The Optim solution is available to all Sun Life applications world-wide. Sun Life has approx 15,000 employees.