Insurance has always had challenges with channel strategies.   Historically,  while there was some crossover, the majority of North American insurers did business either directly with customers or through independent agents/brokers.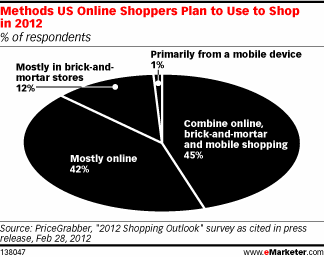 However, the on-line world seems to be challenging the distinction to the core.
Looking at the broader world, several reports cited in eMarketer note that US retailers are finding that previous 'channel strategies' are not holding up in the current environment. Jeffrey Grau, eMarketer principal analyst and author of the new report, "US Retail Ecommerce Forecast: Entering the Age of Omnichannel Retailing."says "In the past, cross-channel shopping amounted to using a retailer's different channels one at a time for separate transactions.  But today, consumers are moving between a retailer's channels—websites, stores, mobile devices, social media—in a fluid way."
eMarketer cites a February 2012 survey by PriceGrabber, which found that most US online consumers plan to shop this year by combining online, brick-and-mortar and mobile retail channels (see accompanying chart).  Grau notes that shoppers will increasingly move from researching products on-line to using social networks to get opinions on suppliers, to purchasing on-line or in person.  "What will matter most is whether the experience was smooth. If the retailer disappoints the shopper during any of these channel handoffs, it will reflect poorly not only on that channel but on the brand as a whole," Grau notes.
This message seems to be resonating with some insurers, including Progressive.  As reported in PropertyCasualty360.com, the insurer, which does business directly and through independent agents, wants to ensure that the end customers have a consistent experience regardless of the channel.
"We are having success in tools that cross over," says Matt Lehman, mobile business leader for Progressive. "As we build out certain capabilities, clearly we are looking for those to be channel agnostic. When you look at the servicing and claims' capabilities … we want those to be available to all customers regardless of how they choose to work with us."
Progressive is not afraid to develop specific tools for a channel.   Lehman notes, "If a customer chooses to work with one of our 35,000 independent agents, that's great and we want to put tools like the new FAO (ForAgentsOnly) effort into agents' hands so they can be mobile."   And the company actively seeks input from agents in developing and deploying the tools through an agent council.
In addition, Progressive looks to leverage experiences with one channel into another.  "We certainly look for crossover opportunities and in certain cases we may release something for the direct channel, which ultimately will cut over to the agency channel as well."
At the end of the day, customer satisfaction ifs the goal.  Back in the retail world, marketers are now segmenting customer preferences by channel.  While there is a continuing need for personal service, it is important to determine where this is most appropriately supplied.
Matt Josefowicz, principal at Novarica, commented on this in a recent blog post: "In the age of information scarcity, commissioned sales people were a valued information source for customers — because they were the only accessible information source. Now, in the age of information super-abundance, there are alternative ways for customers to get information, ways that are more responsive, and have more information available than the best informed salesperson. It turns out many customers prefer not to interact with a channel that has incentives to sell them something they may not really want or need."
This reflects some of the views of Lauren Foy, the Millennial who commented on independent agent's social media strategy.  We posted on this last month.
Josefowicz ends his post with the real money question for insurers:  "how are they going to adapt their sales experience to attract these buyers?"
Blurry looks good for the moment.