5 September 2002 – A recently-published study from Ipsos-NPD Canada reports teenagers do 57% of their homework on a computer, compared to just 36% who said the same in 1998. Additionally, the study notes that 40% of Canadian teenagers' homework is done online, compared to 30% in 1999.
Ipsos-NPD notes that even though Canadian teens spend more time online chatting and surfing than they spend online researching topics for homework, they have in fact increased the amount of time they spend doing such research since 1999 — 2.4 hours per week currently compared to 2.3 hours per week in 1999.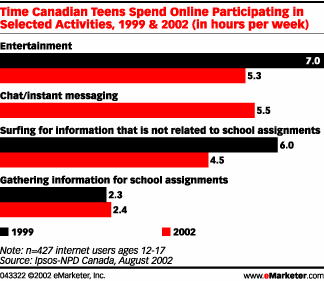 Ipsos-NPD surveyed 427 young people in Canada between the ages of 12 and 17 through July and August 2002. In terms of gender, the study notes that girls spend more time online (2.9 hours per week)
researching for school than boys (2.0), but boys spend more time online for entertainment (5.8). Overall, 56% of teens go online to research for science classes and 35% conduct online research for English classes. Interestingly, an increasing number of teens are going online for Geography and Math.
Similar to the Ipsos-NPD findings, Environics Research reports that in 2001, 44% of young Canadian internet users said they went online to find information for homework. It is important to note the differences in the the two studies, however, as the 40% noted by Ipsos is percent of homework done online in 2002, while the Environics number is of total respondents.
By gathering the latest research and news from over 1,000 sources, eMarketer has established itself as the world's leading provider of internet and e-business statistics. eMarketer's Web site is at www.emarketer.com